Match Review
TSC Backa Topola will host Vojvodina in a Super Liga game on May 28, 2023 at at 03:00 UTC. The match is sure to provide plenty of excitement for all football fans. You can also check out the recent form of TSC Backa Topola and Vojvodina, as well as standings and head-to-head statistics on this page. In addition to pre-match and live betting odds provided by Amubet.com.
TSC Backa Topola - Vojvodina Best Odds
How to Watch the Livestream of TSC Backa Topola vs Vojvodina?
Watch the game free of charge and without ads by following these steps:
Click on the Live Stream box above and follow the instructions to make a free registration.
Scroll through the list of events and find the one you're interested in.
Watch TSC Backa Topola - Vojvodina for free
Posible Lineups
TSC Backa Topola

Vojvodina

Veljko Ilić
12

Nemanja Stojić
18

Josip Ćalušić
4

Dušan Cvetinović
40

Aranđel Stojković
5

Nikola Kuveljić
21

Luka Ilić
32

Ifet Đakovac
35

Miloš Cvetković
29

Saša Jovanović
8

Petar Ratkov
36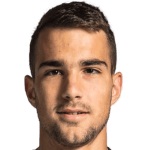 Lazar Carević
25

Milan Lazarević
50

Igor Jeličić
15

Mamadou Traoré
6

Filip Antonijević
18

Nikola Čumić
24

Dejan Zukić
10

Vladimir Miletić
14

Filip Malbašić
29

Uroš Kabić
70

Nemanja Nikolić
9